As a mom, it may feel challenging and seemingly impossible to imagine starting your own business. Between being a full-time parent and managing a business, it can be overwhelming if you feel like you're going through it alone. Fear not, there are plenty of moms out there that have built successful companies. Here are a few resources and tips to help you be one of them.
Find Inspiration 
You can find inspiration for your business anywhere. For the sake of this post, let's boil it down to something digestible. Podcasts and audiobooks are fantastic solutions for busy moms such as yourself. They're passive and informative, allowing you to multitask. While you're in the car dropping off your kids at school, tune in to The Mom Hour. On your way to the grocery store, dig into a chapter of Boss Mom by Dana Malstaff for valuable bites of information you can put in your mompreneur toolkit. 
Seek Guidance 
Established entrepreneurs and business programs are everywhere, you just have to know where to find them. Luckily, there are a few on this list to start you off. If your business is having trouble breaking through a competitive and saturated market, accelerator programs can give you that extra push you need to stand apart from the crowd. These programs run on a fixed timeline lasting about 3 to 6 months. Although they're short, they boost your business's growth by introducing you to mentors from established companies, market exposure, and educational opportunities.
Look out for accelerator programs, such as Put Me On Gopuff, that are intended to help underrepresented business owners get their name on the map. Gopuff's program helped mom and Mumgry owner Lilian Umurungi-Jung take her nut butter from an idea while grocery shopping to a full-fledged business. 
Fellow working moms, whether they're also starting a new business or not, are also excellent sources of knowledge and wisdom that can guide you through your journey. Becoming a member of a professional community for mothers, like The Mom Project, can help connect you to other entrepreneurs or even match you with a mentor. 
Secure Funding 
Having sufficient funds is a major part of starting a new business. There are plenty of ways to get funding for your dream venture, below are a few examples to give you an idea of what might work for your financial situation. Be sure to do your research and explore your options. Some organizations out there offer specialty grants to women-owned businesses. It's crucial to explore all funding options so you don't miss out on an opportunity to finance. 
Small Business Loans 
The kind of business loan you get will depend on what stage you're at in your business journey and how much support you need. The common denominator with many business loans is the application and review process, which can take anywhere from 2 to 3 months.
You'll want to make sure your personal credit score is good too. This is because lenders will assess your personal credit history to decide if they should lend you money based on whether you've been able to repay your own debts. The lower your score, the more risk a lender will assume which means there's a greater chance they won't approve a loan. Even if your credit score is not so great, there are still ways for you to qualify for a loan with bad credit. 
Business Grants 
Grants are tax-funded finances that are collected specifically for a business to use towards a project. There are three types of grants that you can apply for: federal, state, and private. The main differences between private and public grants are the sponsor, approval process, and award amount.
Public grants are funded by federal and state systems as well as other public agencies. The application and approval process is usually more competitive. You can expect to wait at least 6 months before being approved or receiving an award. The wait time could pay off though, literally. Federal and state grants typically have more resources which means you can expect a larger financial award from them.
Private grants are funded by non-governmental organizations and depend on that organization's mission. Since the government isn't involved, these organizations might not have the same amount of resources and requirements for their grants. So with that said you might not get as much money from a private grant but you might not have to wait as long for it. 
Crowdfunding 
Enlisting the help of family, friends, and even strangers on a site like GoFundMe is another option for getting the funds to start or grow your business. If you go this route, be prepared to set a financial goal for how much capital you need and a short pitch for why your business deserves contributions.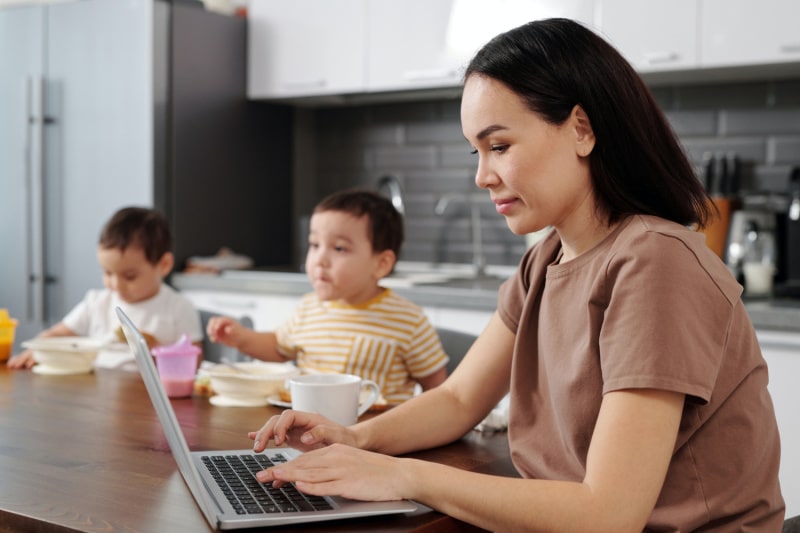 Establish Balance 
Remember you are your own boss now. So, instead of working 9-5 for someone else, you have the flexibility to set the hours for yourself. This responsibility means you must hold yourself accountable for designating time aside from your business to spend with your family and setting boundaries with them during work hours. 
Let's start with setting boundaries with your family during work hours. If you're working from home, there may be a very real (and slightly embarrassing) possibility that your child interrupts an important Zoom call with a potential client. So, to avoid a scenario like that, it's crucial to establish a designated working space. Now, this doesn't mean you need to go and renovate an entire room. You can start by making small changes to your home that fit your needs. 
Allow your imagination to run wild and use your space to your advantage. Have a smaller living situation? Try incorporating one or multiple small home office ideas to make the most of what you've got. Whatever you decide to do, create a working space that keeps you inspired and organized. 
Now that you've got a dedicated space for yourself, find one for your kids. Whether it's a daycare or grandma's house, childcare is a good idea if you have the means to access it. Having someone you trust to look after your little ones is a huge help in keeping your work life and home life separate during working hours. Maybe you don't have friends or family members living nearby, or they don't have the time to babysit. If that's the case, consider using a childcare finder such as Sittercity. Sites like this are great starting points for finding a reliable caretaker. 
The last piece of advice to keep in mind as you pursue your business aspirations is to remember to reserve time for self-care. You can lose sight of your needs and eventually burn out when you get too wrapped up in working for yourself and for your family. Preventable measures are key to avoiding burnout. So, make sure you're taking the necessary steps to put your needs first when juggling all things boss-mom-related.